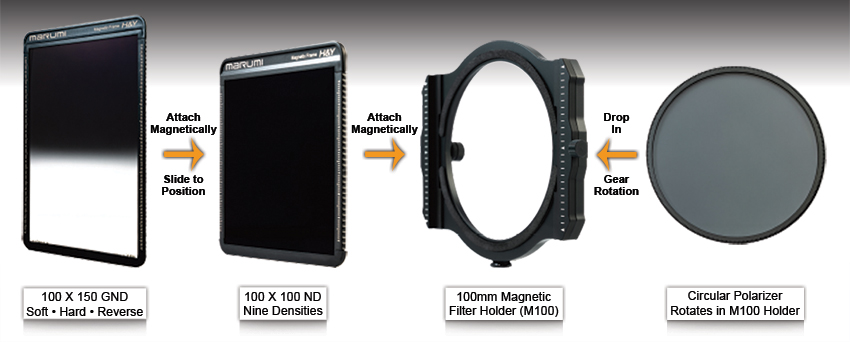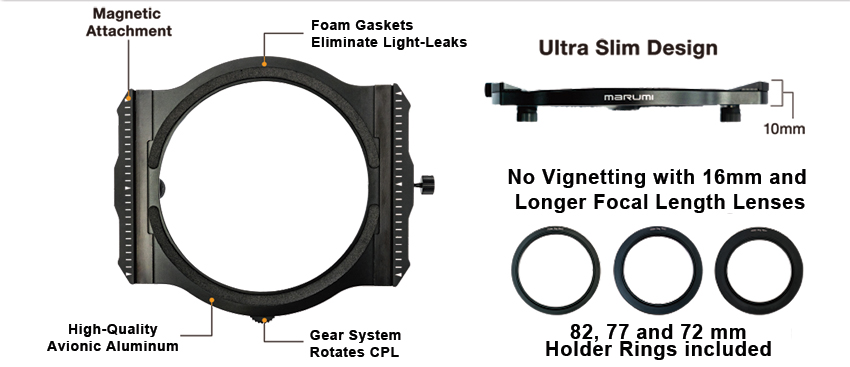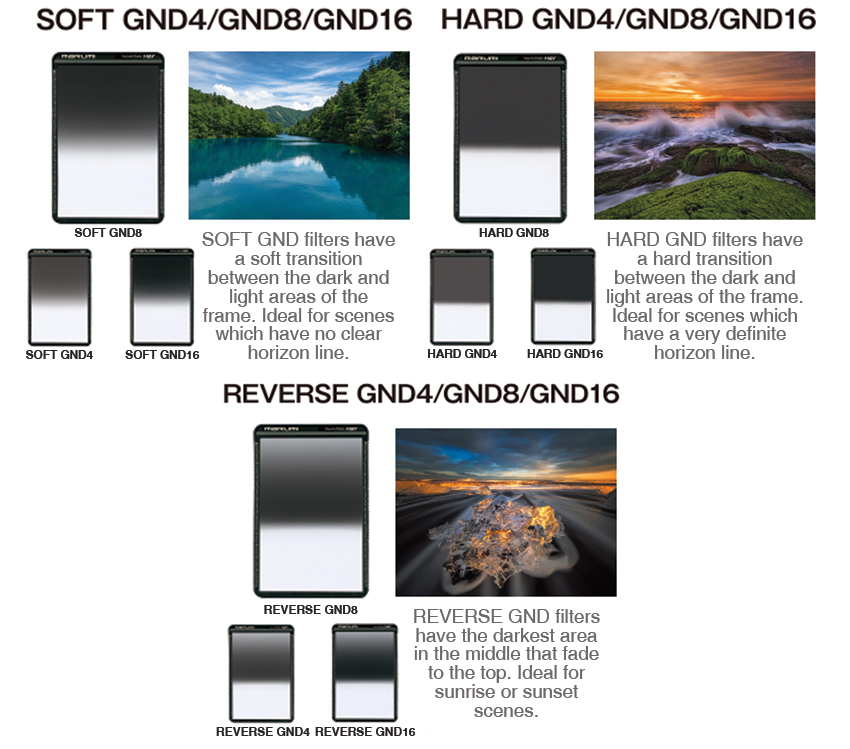 Innovative magnetic filter system enables you to attach/detach square filters on an instant.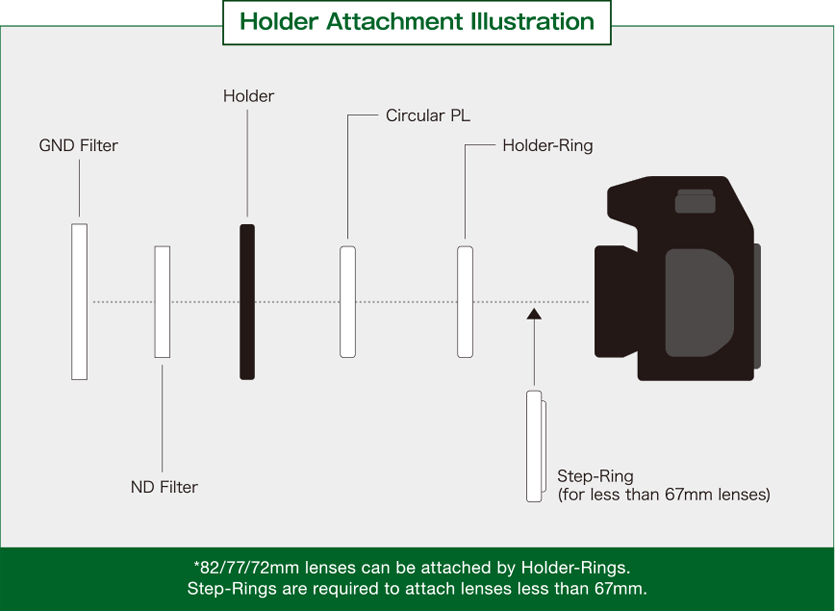 Screw in "Circular PL
for M100 Holder" to "Holder-Ring".
(*Holder can be used without Circular PL filter)
Screw in "Holder-Ring" to your lens.
Attach "M100 Holder".

Tighten the screws.
Attach "ND Filters" or/and GND Filters.
In case attaching more than 2 filters, don't forget to
tighten screw on side of the holder.

| | | | | | |
| --- | --- | --- | --- | --- | --- |
| Item # | Description | Stops | Size | UPC | MSRP |
| AMFSGND4 | Soft GND4 (0.6) | 2 | 100x150 | 4957638732017 | $275.00 |
| AMFSGND8 | Soft GND8 (0.9) | 3 | 100x150 | 4957638732024 | $275.00 |
| AMFSGND16 | Soft GND16 (1.2) | 4 | 100x150 | 4957638732031 | $275.00 |
| AMFHGND4 | Hard GND4 (0.6) | 2 | 100x150 | 4957638732048 | $275.00 |
| AMFHGND8 | Hard GND8 (0.9) | 3 | 100x150 | 4957638732055 | $275.00 |
| AMFHGND16 | Hard GND16 (1.2) | 4 | 100x150 | 4957638732062 | $275.00 |
| AMFRGND4 | Reverse GND4 (0.6) | 2 | 100x150 | 4957638732079 | $275.00 |
| AMFRGND8 | Reverse GND8 (0.9) | 3 | 100x150 | 4957638732086 | $275.00 |
| AMFRGND16 | Reverse GND16 (1.2) | 4 | 100x150 | 4957638732093 | $275.00 |
| AMFND4 | ND4 (0.6) | 2 | 100x100 | 4957638733014 | $250.00 |
| AMFND8 | ND8 (0.9) | 3 | 100x100 | 4957638733021 | $250.00 |
| AMFND16 | ND16 (1.2) | 4 | 100x100 | 4957638733038 | $250.00 |
| AMFND32 | ND32 (1.5) | 5 | 100x100 | 4957638733045 | $250.00 |
| AMFND64 | ND64 (1.8) | 6 | 100x100 | 4957638733052 | $250.00 |
| AMFND500 | ND500 (2.7) | 9 | 100x100 | 4957638733069 | $250.00 |
| AMFND1000 | ND1000 (3.0) | 10 | 100x100 | 4957638733076 | $250.00 |
| AMFND4000 | ND4000 (3.6) | 12 | 100x100 | 4957638733083 | $250.00 |
| AMFND3200 | ND32000 (4.5) | 15 | 100x100 | 4957638733090 | $250.00 |
| AMFFHS | 100mm Magnetic Filter Holder (M100) | | | 4957638731010 | $180.00 |
| AMFCPL | Circular PL for M100 Holder | | | 4957638734011 | $170.00 |